Why do I need a certificate of inspection?
This certificate informs your LPG supplier that the installation has been completed by a licensed gasfitter and it is therefore safe and legal to supply gas to this location.
WARNING: Insurance companies may not cover fire or public liability claims caused by do-it-yourself or unlicensed installations.
Using a Licenced Gas Fitter
Always use a licenced gasfitter. NEVER attempt to do any alterations to any gas fittings or appliances yourself. Unlicensed gas work is illegal and can be extremely dangerous resulting in serious injury or even death. Licensed gasfitters have the equipment and knowledge to do the necessary work safely.
Certificate of Inspection NSW & ACT
What is a Gas Certificate of Inspection?
A Gas Certificate of Inspection is an assurance that:
the gasfitter is appropriately licensed
the work completed has been tested and is proven to be safe
the work complies with the requirements of AS 1596 and AS 5601 and other applicable Australian Standards.
the contractor has officially informed you of any existing safety problems with your installation
you have met your legal obligation to own a safe installation and have a permanent legal record for the job. A Gas Certificate of Inspection should be given to you within five days of completion of the following gas work:

installing a new gas pipe work
extending or repairing existing gas pipe work
installing new appliances – for example heaters, hot water units, stove tops
replacing an appliance.
WARNING: If you do not receive a Gas Certificate of inspection this will jeopardise your insurance if a gas-related incident subsequently causes fire or damage to the property. It could also result in you not being able to arrange a supplier to supply gas to your property.
The Department of Fair Trading (NSW) keep records of all Certificate of Inspections. Plumbers and gasfitters now have the option of completing the certificates online at the Department of Fair Trading (NSW) website.
Notification of a Serious Gas Accident to Fair Trading (NSW)
Owners or occupiers are now required to notify Fair Trading (NSW) if a serious gas accident occurs on their premises.
Responsibility to Maintain Gas Installations
There is a requirement for owners or occupiers to maintain their gas installations in safe working order. The requirement is not onerous but is designed to ensure the owner or occupier make sure the gas installation is not impaired by interference, damage, ageing or wear, is used as designed, and is not made a fire danger by having combustible materials stored in the vicinity of the gas outlet.
What does a compliance plate look like?
A small metal plate with the numbers stamped into the metal.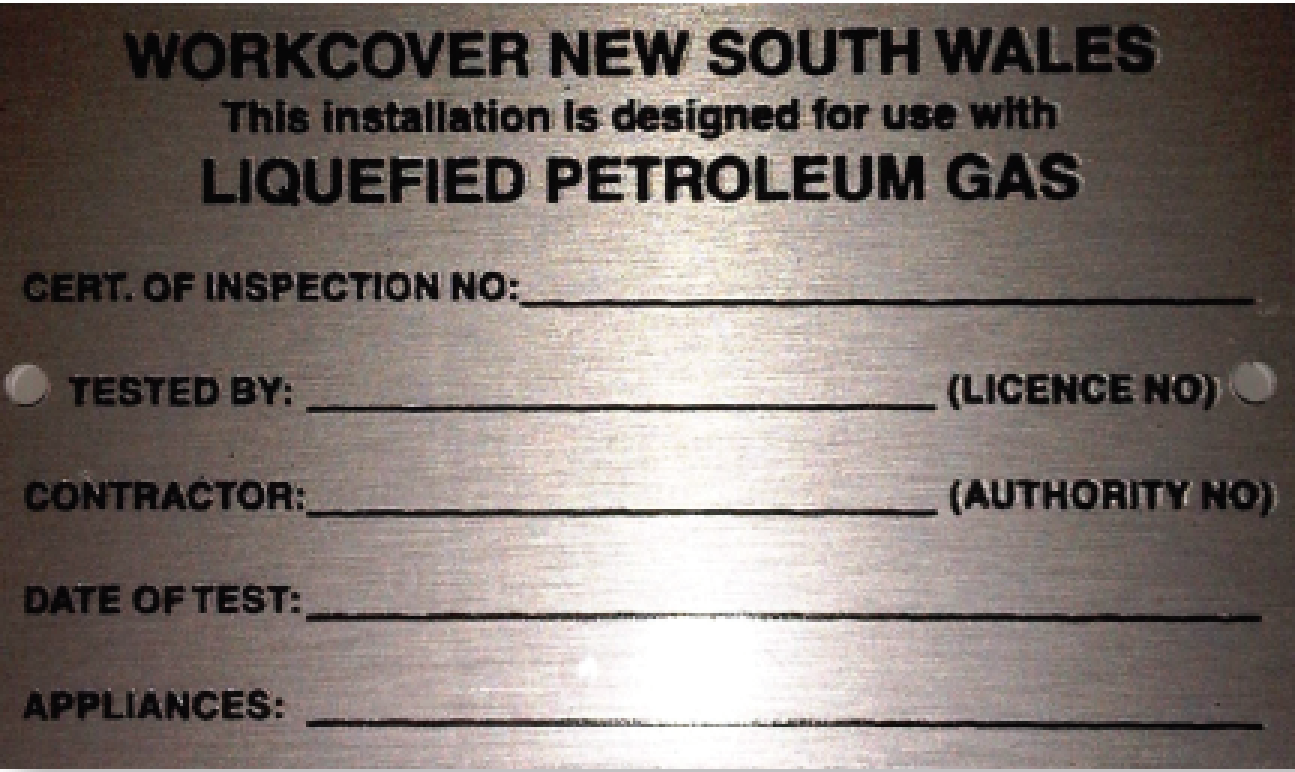 The requirements for compliance plates attached to gas installations have been updated to ensure the numbers better reflect modern appliances. The appliances are now numbered as shown below.
| Type of Appliance | Number |
| --- | --- |
| Stationary engine power generator or air conditioner | 0 |
| Cooktop or wok cooker | 1 |
| Refrigerator or absorption chiller | 2 |
| Instantaneous water, pool or spa heater | 3 |
| Tank hot water heater | 4 |
| Hot plate, grill or BBQ | 5 |
| Oven for baking, curing or drying | 6 |
| Decorative flare or gas light | 7 |
| Room heater or space heater | 8 |
| Other appliance | 9 |
Where can I find a Compliance Plate?
This plate is usually fixed onto the wall above the LPG installation and the Certificate of Inspection number will be recorded here as well as on the paper certificate that is provided to you. The plate must be in an approved form as per Clause 46-1(a) of the Gas Supply (Consumer Safety) Regulation 2012.
What does a certificate of inspection look like?
The Certificate of Inspection comes in a triplicate book that remains the property of the licensed gasfitter. A copy of the certificate is given to the installation owner, a copy is also given to the gas supplier and the remaining copy stays in the gasfitter's book for at least 5 years. While gasfitters are encouraged to use the new form, existing Certificates of Inspection can still be used. Older Certificates of Inspection generally have only three copies, so gasfitters will need to ensure there is a copy for their records, a copy for the consumer, a copy for Fair Trading (NSW), and a copy for the network operator or gas supplier, where required.
Time period to lodge Certificates of inspection
Gasfitters have 5 business days to provide a Certificate of Inspection to owners or occupiers and Fair Trading (NSW) (plus the gas suppliers) following the completion of gas fitting work.